Affiliations
Quorum Insurance prides itself on its commitment to service excellence, insurance industry expertise and involvement, and continuing education as evidenced by our membership and affiliation with the following firms.
---
Trusted Choice Agency
We know the insurance marketplace, so you don't have to.
As a Trusted Choice® agency, we are dedicated to you and are committed to treating you as a person, not a policy. This commitment means we shall:
Work with you to identify the insurance and financial services that are right for you, your family or your business and use our access to multiple companies to deliver those products.
Guide you through the claims process for a prompt and fair resolution of your claim.
Help you solve problems related to your coverage or account.
Explain the coverages and options available to you through our agency, at your request.
Return your phone calls and e-mails promptly and respond to your requests in a timely manner.
Provide 24/7 services for our customers, offering any or all of the following: emergency phone numbers, Internet account access, e-mail and call center services.
Use our experience and multiple company relationships to customize your coverage as needed.
Commit our staff to continuing education so they may be more knowledgeable in serving you.
Treat you with respect and courtesy.
Conduct our business in an ethical manner.
We pledge this to you, our clients and ask that you let us know if we fail to meet our commitment, so we may take corrective action.
---
Florida Professional Insurance Agent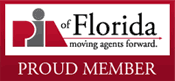 The Professional Insurance Agents of Florida (PIA of Florida) was established nearly 60 years ago to promote the prosperity, growth, and perpetuation of its members as professionals in the Florida insurance industry. Since then, PIA of Florida has grown to represent hundreds of professional insurance agents who utilize their expertise to help people protect themselves in a risky and uncertain world.
---
International Association of Insurance Professionals

The International Association of Insurance Professionals is a professional association open to individuals in the insurance and risk management industries. Insurance Professionals is best known for providing insurance education, skills enhancement and leadership development to its members. Originally organized in 1941 as the National Association of Insurance Women, the organization adopted the Insurance Professionals trade name in 2011 to better reflect the diversity of its membership.
---
Florida Association of Insurance Agents

The Florida Association of Insurance Agents is a nonprofit state trade organization of insurance agencies affiliated with the Independent Insurance Agents and Brokers of America, Inc., and 18 local boards throughout Florida. The association serves as a central source of information for more than 2,000 member agencies, and enhances the independent agency system through education, legislation, communication, and FAIA Member Services.
---
The National Alliance for Insurance Education and Research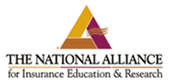 Creating, developing, and delivering practical continuing education programs for everyone involved in the insurance and risk management industries is the challenge and purpose of The National Alliance for Insurance Education and Research. With a legacy that began in 1969, The National Alliance is recognized across the nation as the best source for continuing education credits, designation opportunities, and concrete knowledge for insurance and risk management professionals of every experience level.
---
Certified Insurance Counselors (CIC) Program

The Certified Insurance Counselors (CIC) Program has been the insurance industry's premier, proven source for practical, real-world education since 1969. More than 300 CIC institutes are conducted each year in major cities throughout the U.S. and Puerto Rico. Designed to cover important aspects of the insurance field, each institute is 20 hours of instruction, followed by a mandatory examination for those wishing to earn the prestigious CIC designation.