Please join me in congratulating Krista Rosales, Nakisha Ruggiero & Bill Cabeche who all recently received recognition for completing advanced insurance training.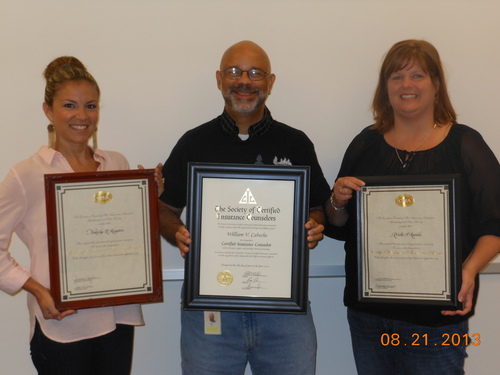 Krista & Nakisha obtained the prestigious Certified Professional Insurance Agent (CPIA) designation, which is a first-of-its kind, hands-on training for insurance professionals. The CPIA program has 3 success seminars which are appropriately titled, Position for Success, Implement for Success and Sustain Success.
Bill obtained the coveted Certified Insurance Counselor (CIC) designation. The CIC program has been the industry's premier, proven source for practical, real-world education since 1969, and it signifies a high professional level of experience and competence. CIC graduates complete 5 institutes including: Personal Lines, Commercial Casualty, Commercial Property, Life & Health and Agency Management, and must successfully pass a rigorous exam after each institute to earn the designation.
These individual's accomplishments are a testimony to their dedication to their field and their pursuit of continuing education and professional growth.